Disclosure:  This post contains affiliate links. If you buy from one or more of the links in the post we may receive compensation at not cost to you.
Las Vegas is full of unique and fun buffets. Here are our tips for taking your family to a buffet on the strip or off …
Do check pricing before you go. Some buffets charge children starting at the age of 3 and that can add up, especially for picky and pecky eaters!
Do check the buffets hours and for specialty times. Some buffets may close during lunch and dinner, other only serve brunch on the weekends and many more offer a more expensive dinner selection on the weekends.
Don't choose a buffet just because it's close to home. If you're really wanting the experience look for something that suits your family's tastes and if that requires a bit of a drive explore the area and visit a park nearby to make the drive worthwhile.
Don't expect every buffet to be the same. Just because the dinner buffet blows you away doesn't mean the breakfast buffet will as well.
Do bring activities for your child to enjoy during the meal. Buffet eating can be slower than other meals.
Don't plan to go during a busy time or on a holiday if this is your first experience.
Do take your child(ren) up to the buffet to see all the choices and maybe encourage them to try something different too. (We know it's hard!)
Do remember to tip your wait staff.
Do bring baby wipes to clean up the kids after they devour dessert.
Casino Buffets that Hit the Spot
Kids 3 and under eat free. Kids ages 4-6 years eat half price. Seasons has themed nights and brunches so check their web site to see what the offering is before you go! Don't forget to visit the fish tanks before leaving! Definitely a highlight of the Silverton experience.
If you want a seafood buffet, this is the place to go! The Carnival World buffet gives you the option to upgrade if you can't get enough on the regular buffet! Kids ages 4 and under eat free, while those 12 and under have special pricing.  Breakfast is $8.50 ~ Lunch is $12.50 ~ Dinner is $15.
Located at Planet Hollywood, this buffet is popular among locals and tourists alike. Kids 3 and under can eat free, while those ages 4 years to 10 years have special prices ranging from $12.99 at breakfast to $19.99 at dinner.
Buy a Groupon for Spice Market Buffet
The Feast Buffet can be found at any of the station casinos. Price vary depending on the casino, but the policy on kids does not. Kids under 2 eat free and those over two pay full price at all of the Feast Buffets. A full list of the buffets, hours and pricing can be found here.
With more than 200 items on its buffet, Studio B is delicious and family friendly. Kids under 5 eat free and there is reduced pricing for children between the ages of 5 and 12 years of age.  The buffet offers a Prime Rib Brunch, Seafood Buffet and a Seafood Brunch, they also include beer and wine in the meal.
The Garden Buffet has six live cooking stations, theme nights and unbeatable pricing. Kids under 3 years old eat free, children 4 -6 years of age eat half price.
This buffet has so many yummy dessert options it's worth it just for that course! Bonus! Kids under 4 eat free! Kid's ages 5 years to 10 years pay $16 for brunch and $20 for dinner.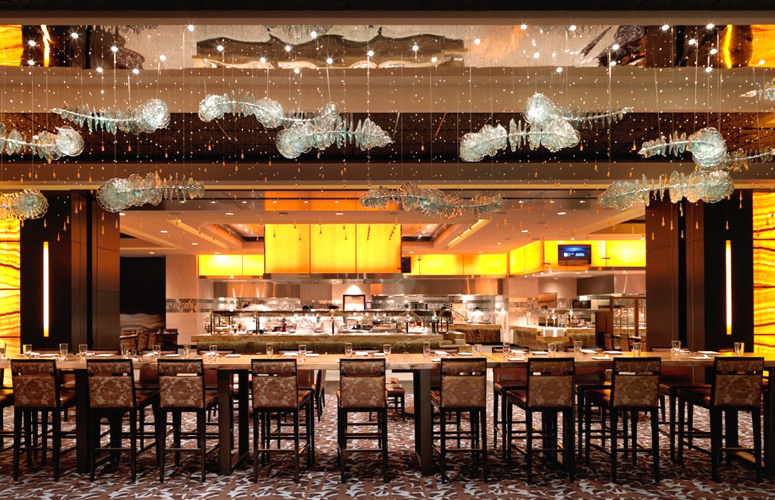 Local Favorites
We polled  local parents and these tried-and-true buffets were mentioned as family favorites.
There's nothing better than pairing your pot roast with cotton candy and a side of rolls. Golden Corral makes that happen every day.
With five locations across the Las Vegas Valley, Cici's is an easy option for a family meals. Pizza, pasta, salad and dessert with games for the kids, plus the prices make it an unbeatable value. Sign up for Pizza Perks or download their apps to grab additional savings.  Kids 3 years old and under are always free, ages 4 years old to 10 years old are $4.86 (including tax and drink).
All you can drink, all you can eat and all the fun you can have in one place. (and the buffet has donuts). Buffet is required for admission to John's (you have to eat to play kids) but there's something for everyone! Kid's 2 years and younger eat free, those ages 3-6 pay $5.29 and kiddos ages 7 years to 12 years pay $7.29. Fun cards are separate but well-priced for what is offered. Sign up for the Email Club to get additional promotions and more.
If you're looking for crisp salads, warm soups and yummy muffins, then look no further. This family-friendly restaurant is a favorite and makes for an easy dinner that healthy and makes every family member happy! Sign up for Club Veg and have coupons delivered to your inbox too.  Kids 2 years and younger are always free. Kids ages 3 years to 6 years are $3.99 and kids 7 year to 12 years are $5.99.
We work to insure that all information contained in our posts is correct. Information does change and often, without our knowledge. While we strive to update and stay on top of everything but it's not always possible. Please call before you go to check hours and pricing for any event or business to be certain the information contained in this post is accurate.