This post contains affiliate links. Affiliate links allow us to make a small commission, at no cost to you, on purchases made through links in this post. Thank you for supporting Vegas Family Guide and our community.

It feel likes October blew bye and we've moved right to Christmas. Santa is arriving and bringing joy and magic to your holiday season. Find everywhere the sleigh will land Santa in Las Vegas this year.
The District at Green Valley Ranch 
The District at Green Valley Ranch kicks off the holiday season on November 25 from 6pm-9pm, as the center hosts its annual Tree Lighting Spectacular sponsored by Shake Shack. Taking place on Main Street near the Courtyard, the Tree Lighting Spectacular will feature five-time Guinness World Record holder and Master of Illusion, Rick Burr, who will make Santa magically appear. Prior to Santa's magical appearance, there will be a spectacular laser light show, captivating music and amazing dance performers. Guests attending the tree lighting will be treated to tasty custard samples courtesy of Shake Shack.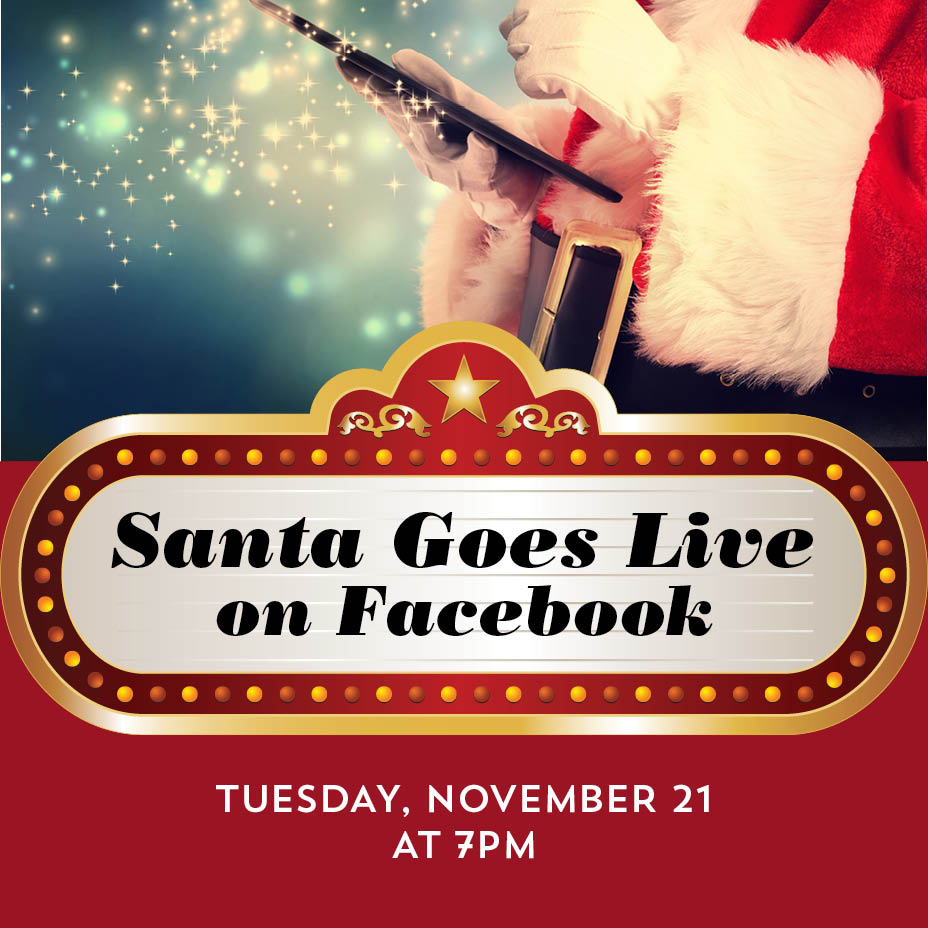 Santa Goes Live on Facebook Tuesday, November 21st at 7pm. Grab the kids and learn all that is happening at Galleria at Sunset. Santa will be live to answer questions and tell you how we are partnering with Salvation Army this holiday season.
This holiday season help Galleria at Sunset give back with our Facebook Live video. Help us spread the word with friends and family. Just like, comment, or share the video.  Each like, comment or share equates to a $1 donation! All donations will benefit Salvation Army.
Santa will be making his list and checking it twice this holiday season while he is at Galleria at Sunset for photos November 11- December 24. This year, there will be two ways to see Santa, making it easier than ever. We will be offering same day reservation, notifying you via text when it is time to see Santa, or make your appointment and purchase your photo package in advance with the Santa Fast Pass.
Santa Claus arrives to Downtown Summerlin on November 17th and makes his home at the BRAND NEW Winter Wonderland Chalet located in the Macy's Promenade through December 24th.  Featuring a forest of mountain pines and playful deer, sculpted in hues of winter white, red, and green that transforms the location to a magical mountain chalet nuanced with a modern take on traditional holiday detail and pattern, creating a festive environment for children and adults alike to whisper their holiday wishes. Photo packages start at $24.99. Santa offers photos with pets on Tuesdays through Dec. 19 between 7 and 9 p.m.
Ethel M Chocolates 24th Annual Holiday Cactus Garden
Featuring Over 1 Million Holiday Lights
November 7, 2017 – January 1, 2018
2 Cactus Garden Drive, Henderson, NV 89014
Free & Open to the Public
Illuminated Nightly from Sundown to 10pm
*Open Thanksgiving & Christmas Eve,
Closed Christmas Day
*Stay tuned for dates that Santa will be available
November 17 – December 23
Snow in the Square and Photos with Santa
Join us for Snow in the Square every night at 7 PM with a second show each Friday, Saturday, and Sunday at 8 PM. Magical snow flurries set to your favorite holiday music will fall on Town Square, creating a winter wonderland, right here in Las Vegas! Reservations are required for photos with Santa. Time slots are available for all dates, Saturday, November 18th through Saturday, December 23rd.
Photos with Santa at Lower Level, Sears Court, Thru December 24
Regular Hours:
Monday – Saturday: 12:00 PM – 8:00 PM
Sunday: 12:00 PM – 6:00 PM
Special Hours:
12/15 – 12/23: 9:00 AM – 9:00 PM
12/17 Hours: 10:00 AM – 8:00 PM
Christmas Eve: 8:00 AM – 6:00 PM, Break: 12:30 PM – 1:30 PM7
*Santa may take occasional breaks to feed the reindeer.
Special Themed Nights include:
Pet Photos on Mondays from 5pm – 8pm
Holiday Pajama Nights
November 17 from 5pm – 8pm
December 8 from 5pm – 8pm
Ugly Sweater Night on December 1 from 5pm – 8pm 
Photos with Santa at Neiman Marcus Court through December 24
Regular Hours: 
Monday – Saturday: 11:00 AM – 9:00 PM
Sunday: 11:00 AM – 7:00 PM
Special Hours:
12/15 – 12/22: 10:00 AM – 9:00 PM
12/22 – 12/23: 9:00 AM – 9:00 PM
Christmas Eve: 9:00 AM – 6:00 PM, No Breaks
*Santa may take occasional breaks to feed the reindeer.
Santa Claus is bringing Operation North Pole to Las Vegas at Tivoli Village. Operation North Pole is a magical interactive operation just in time to train Santa's Elves for the holiday season. The facility is comprised of five meticulously rooms and spans over 5,500 sq. ft. Enter through Candy Cottage and meet Sugar Plum Marcy, experience the toy workshop while making a homemade craft with an elf, cocoa and cookies with Mrs. Claus, tour through our reindeer stables and one-on-one time with Santa himself! All ticketed children will receive a teddy bear from Santa to enjoy during the holiday season! Operation North Pole is located in Tivoli Village at 420 S Rampart Blvd, suite 120 Las Vegas, NV 89145 (adjacent to Kidville, North of Brio restaurant). Purchase tickets here.
Free photos with Santa, crafts, activities and more through December 24th. Get the schedule here. 
Santa will be in the North Food Court from November 24 – December 24.  Pet Photos will be available on Sunday, December 10, from 7pm – 8pm.
Annual Tree Lighting Ceremony  Saturday, November 25 at 5 – 7pm at MonteLago Village
Beginning at 5 pm, Annie Meadows, an American Contemporary Christian singer, songwriter and recording artist, will perform and help lead the countdown to the tree lighting at 6:30 pm. Performances from Positively Arts Foundation students  will follow. The nonprofit group brings today's professional artists together with aspiring students to ensure the performing arts continue to thrive despite financial difficulties that many schools have to navigate. After the tree lighting, the Rocky Mountain Chocolate Factory will host a meet-and-greet with Meadows.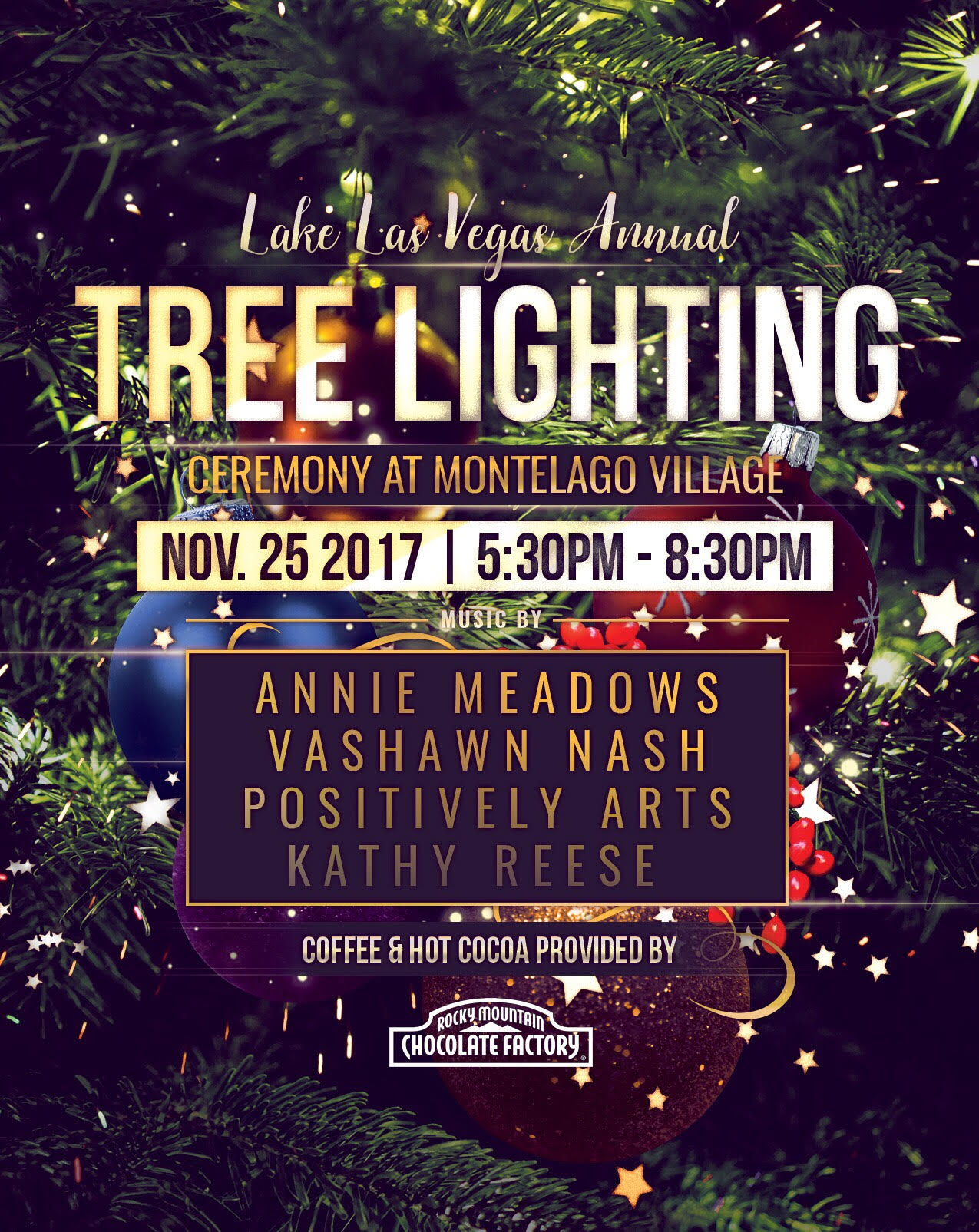 Santa Cruise Saturday, December 16 & 23 at 11am & 1pm at La Contessa Yacht
Children are invited to join Santa Claus on a special hour-long cruise around Lake Las Vegas' 320-acre lake. While on the La Contessa Yacht, children can play holiday-inspired games, enjoy holiday goodies and take photos with Santa. All children must be accompanied by an adult and please arrive 15 minutes prior to scheduled departure time. COST: $30 per person; Tickets available soon!
Experience the Magic! Celebrate the holidays with a cherished southern Nevada tradition – the Magical Forest at Opportunity Village! The Magical Forest is a winter wonderland with millions of sparkling lights, nightly entertainment, great food and endless holiday cheer. You'll enjoy all this glimmering splendor and much, much more including photos with Santa in his workshop. Open November 24 – December 31.
Get Discounted Admission to the Magical Forest here!
December 10th! Save the date for Santa Paws! 
General admission pricing starts at $10 for children and $12 for adults. Passports, which include unlimited rides in addition to admission, are $19 and $22, respectively. Ride tickets are $3 a piece, or you may purchase an unlimited ride wristband for $12. Active duty military, first responders and seniors (ages 60+) receive $2 off. Children three and under get in free (and ride free when accompanied by an adult with a wristband).
For more information on dates, times, tickets, attractions and more, please call (702) 225-9627 or visit MagicalForest.com.
The Las Vegas Great Santa Run will be held again this year on December 2nd! Each year the Las Vegas Great Santa Run attracts thousands of runners and walkers from all over including families, businesses, individuals and global tourists to downtown Las Vegas. Your registration includes a full Santa suit, a medal and the opportunity to be a part of the largest gathering of Santas in the world! The Las Vegas Great Santa Run is an incredibly important fundraiser for Opportunity Village, a not-for-profit that serves adults with intellectual disabilities. All proceeds directly benefit the programs and services provided at Opportunity Village.
Get discounted entry to the Las Vegas Great Santa Run! 
Open Every Day November 24 – December 31*Closed Christmas Eve and Christmas Day. Ticket booth opens every day at 5:00 PM. General Admission is $2o and children 2 and under are free! Once in the park all activities are free. There will be items to purchase in the gift shop along with food and beverages. There are several photo opportunities we welcome you to use your own camera and printed photos are available for purchase. Paintballs are also available for purchase. There is no charge for photos with Santa, but you will need to bring your own camera or you can purchase pictures that we print on the spot.
Santa has a little house in Las Vegas.! Children will love visiting with Santa Claus in his cozy cottage in Christmas Town. With his reindeer nearby, Santa can relax and spend time with each child who visits him. It may be cold outside, but it's always warm and toasty by Santa's roaring fireplace.
Sun-Thursday 5:30 – 9:00 PM
Fri-Sat  5:30-10:30 PM
he first ever Holiday Market on the famous Las Vegas Strip featuring 80 foot tree, ice skating rink, traditional chalets, festive shopping, food, drinks, games and more. Opens December 1st.
Santa Train 
Santa runs Saturday and Sundays, December 2nd & 3rd, 9th & 10th, and 16th & 17th. Get tickets here.
All Aboard the 5th Annual Pajama Train! Come experience the magic of riding the train at night! Guests will experience the magic of the holidays onboard and in their pajamas! Each pajama train includes visits from Santa, Storytelling, and of course Hot Chocolate & Cookies during the 1 hour excursion.
Dates are December 7,.8, 14, 15, 21, 22, & 23! Train departs at 6PM and 8PM.
Ticket prices are the same for patrons ages 1+:
First Class Tickets are $30
– Includes: Table seating for 4 in the historic Dining Car with Table Service and unlimited Hot Chocolate & Cookies.
Second Class- ADA (table car) Tickets are $25
– Table Coach Class includes: Table seating for 6 in historic Pullman Cars. Service a cup of Hot Chocolate & a Cookie.
Coach Class Tickets are $20
– Coach Class includes: Seating in the historic Pullman Cars in plush velvet seating. Service a cup of Hot Chocolate & a Cookie.
TICKETS ON SALE NOW!
Please carefully select your day and time. Give yourself enough time to make it to the station, so you do not miss the train. All Sales Final! There are No Refunds or exchanges.
On Friday, November 24th, Green Valley Ranch will open our first ever Winter's Village! We're bringing the holiday spirit to you! SANTA IS COMING!? Get your wishlist ready and see him every Saturday starting November 25 – December 23 from 2pm -6pm! Visits with Santa will be free, and photos with Santa will be at an additional charge.
A holiday tradition for more 20 years, Mystic Falls Park ® will be decked out for the holidays with beautiful new holiday decor, an exciting all-new laser light show and will be making it snow in Vegas every night through the new year! The laser shows start daily at 5:00pm and continue every hour until 10:00pm. Plus Santa will welcome kids of all ages! Free Admission.
November 22, 2017 – Tree Lighting Ceremony:  At 4:28pm, Mystic Falls Park's ®  holiday season décor and lighting will be presented by Mr. Boyd himself! Everyone is invited. Don't miss out on Sam's Town's family tradition!
November 24, 2017 – December 23, 2017
Thursdays and Fridays, 4:00pm -8:30pm
Saturdays and Sundays, 12:00pm – 8:30pm
Embrace the holiday magic at the Springs Preserve with train rides to Santa's magical village and festive activities including photos with Santa, holiday crafts, cookie decorating, holiday stories, a nutcracker display and more!
This special journey will include all of the quintessential holiday trimmings along the way—from snow to hot cocoa.
Trips to Santa's village depart 12 times each day at 12 p.m., 12:30 p.m., 1 p.m., 1:30 p.m., 2 p.m., 2:30 p.m., 3:30 p.m., 4 p.m., 4:30 p.m., 5 p.m., 5:30 p.m. and 6 p.m. Please arrive 15 minutes prior to your scheduled departure time. The Springs Preserve Holiday Express experience is approximately 1 hour and 20 minutes.
Remember Your Camera! Keeping your time with Santa personal, there won't be a professional photographer at Santa's village. You are encouraged to bring your own camera or smartphone to document your Santa sighting.
Dec. 9-10, 16-23, 2017, 12pm-6pm
Admission: $8 members; $10 non-members. Reservations are required. Spaces are limited for each departure time. We strongly encourage you to purchase your tickets in advance to guarantee admittance.
The Container Park 
See More fun ways to bring the magic of the season into your home with Santa Claus! We just ordered the wooden postcard for my boys. 
For more holiday events and family fun visit our calendar at www.vegasfamilyevents.com/events and follow us on Facebook and Instagram 
Additional places to find Santa
This year's theme is Dazzling Desert Holiday and includes a variety of family-friendly activities, including the official tree-lighting ceremony with Santa, craft vendors, entertainment, and a spectacular evening light parade. Wristbands are available Friday and Saturday for day-of unlimited access to the Ferris wheel, carousel, train ride, toboggan slide, and pony rides. Prices available soon.
WinterFest is open to all ages, from the young to the young at heart.
Tree-Lighting Ceremony
6pm, Friday, December 8
Festival
6pm-9pm, Friday, December 8
Noon-8pm, Saturday, December 9
Evening Light Parade
In the Water Street District
5pm, Saturday, December 9
Enjoy a live, complimentary New York-style theatrical holiday show in the Great Hall on November 24, 25, and 26.
"Believe in the Magic" is back for visitors to enjoy throughout the holiday season. An array of singers and dancers will transform the heart of this shopping destination into a one-of-a-kind experience the entire family will enjoy!
Following every show, guests are invited to walk with characters to Santa's Photo Experience, while singing carols – allowing for the ultimate holiday affair.
Sunday, December 3rd 5pm – 8pm
The Christmas Experience is an outdoor Christmas spectacular, hosted on the campus of Liberty Baptist Church.
First 100 families get a free Christmas tree.
Everyone gets free pics with Santa
There will also be vendors, games, bounce houses, prizes, and more!
December 2nd, 11am – 2pm  – Avoid the crowded malls!
Enjoy photo opportunities with Santa, snacks, inflatables, and a petting zoo!
$5 for photos with Santa, inflatables, and the petting zoo.
Color Me Mine Henderson
Sunday, December 3 — 10am – 11:30am
Meet the Big Guy and capture the moment with a special handprint plate!
Stay and paint 1 free ornament & enjoy some cookies and milk.
Our elves are on standby to make this a special memory for all!
The price of this event is $33 + Tax
Call and reserve your child's spot today! Space is limited.
Sunday, December 10 – 9:45am – 11am
You and your child (children) are invited to meet Santa and capture the moment by painting a special plate!
Your choice of Santa's Hand plus your Child's Hand or Your Child's hand turned into a Reindeer!
You will also be invited to stay and paint 1 free ornament plus enjoy some cookies and milk.
$33 plus tax, per child. Reservations are required. Please call us at (702) 522-7119 or stop by to reserve your seats.
Join us on Sunday, December 10th from 10:00 am to 2:00 pm! We'll be walking through the sanctuary, singing carols and passing out treats to the animals. Our fabulous crafting volunteers will be set up with special crafts, making cards and ornaments for the holidays. Wear your Ugly Holiday Sweater and arrive by noon for our contest! ( Prizes for the most unique and ugliest of them all!) We will have hot cocoa and popcorn available! And maybe, just maybe there will be a "Special Guest" with candy canes for one and all 🙂
Join Dave & Buster's Summerlin Saturday, December 16th for "Breakfast With Santa!" Enjoy photos with Santa (bring a camera!), delicious food + games.
INCLUDES: Meet & Greet with Santa, Breakfast Buffet, $10 Power Game Card + Unlimited Video Game Play.
Check in begins at 8:45 a.m.
Seating provided upon your groups arrival.
Tickets required.
All ages welcome.