I love deals, discounts, and effortless couponing.  Here are a few Vegas Steals and Deals  for this week, hopefully you'll find out something new we have here in Vegas too!
Vegas Deals and Steals | September 20th, 2013
Pacific Archery Deal
Pacific Archery is also on Groupon!   Instructors at Pacific Archery  teaches proper form and aim after equipping pupils during lessons at an indoor range.
Click me to grab this deal for just $19!
Value $40
Discount 53%
You Save $21
Archery helps maintain nature's balance—hunters wield bows to keep deer populations in check, and Cupid's arrows make deer fall in love. Keep the circle of life moving with this Groupon.
Choose from Three Options
$19 for one 60-minute private archery lesson for one with equipment (a $40 value)
$29 for one 60-minute private archery lesson for two with equipment (a $60 value)
$39 for two 60-minute private archery lessons for one with equipment (an $80 value)
During private lessons, instructors match students with properly fitted bows and teach them the essentials of aiming technique and shooting stance.
Pacific Archery
Address: 4084 Schiff Drive
Las Vegas, Nevada 89103
(702) 367-1505    
Hardkore Parkour
Tell the members of Hardkore Parkour that it's impossible to fly and they'll prove you wrong. With 20,000 square feet of obstacles, a 16-foot ledge overlooking trampolines, and aerial silks that span the height of the immense facility, Hardkore Parkour facilitates human flight. Its specialty is parkour, a style of movement that lets students traverse obstacles by running, flipping, and scaling barriers to find the most efficient route from point A to point B. To put extra spring in their steps, students can strap on velocity jumping stilts, or perform martial-arts stunts on the sprung tricking floors.
Hardkore Parkour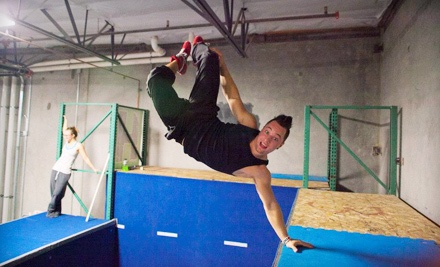 Four Parkour Classes for One or One Parkour Class for Four at Hardkore Parkour (52% Off)
Choose Between Two Options:$29 for four beginner parkour classes for one (a $60 value) $29 for one beginner parkour class for four (a $60 value)During parkour classes, expert instructors teach students the tricks and stunts necessary to traverse Ninja Warrior-inspired obstacle courses. See the schedule here.
Talisman Farm
The expert instructors at Talisman Farm introduce students to european classical riding techniques such as dressage and show jumping following a curriculum designed by Will Faerber, a decorated show rider who studied extensively in Portugal with dressage master Nuno Oliveira. Faerber's training philosophy focuses on training horse and rider to act as one, showing absolute poise and balance whether they're hurdling a 5-foot fence or trotting through a booby-trapped house. Private lessons in the 5-acre equestrian center focus on the fundamentals of dressage riding and show jumping, beginning with appreciating each horse's biomechanics so that students can ride them properly. The professional instructors are willing to work one-on-one with students of all skill levels to help them improve their riding skills. The outfit takes the same approach to jumping and vaulting lessons, which are held in the arena and geared toward preparing students for participation in horse shows.
Talisman Farm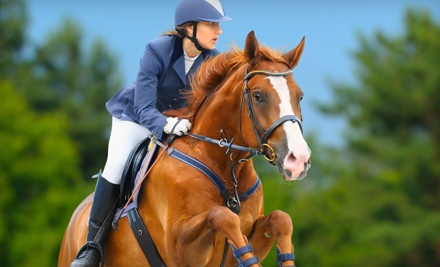 One or Two 60-Minute Private Horseback-Riding or Vaulting Lessons at Talisman Farm (Up to 54% Off)
Choose Between Two Options
$29 for one 60-minute private horseback-riding or vaulting lesson (a $60 value)
$55 for two 60-minute private horseback-riding or vaulting lessons (a $120 value)
Private lessons develop skills for beginner to advanced riders in dressage, show jumping, or vaulting. Helmets and lesson horses are provided.