This post contains affiliate links. When clicking a link in the post, this web site may receive compensation for the products you purchase at no cost to you.
Mother's Day is May 13. As a mother I am barely prepared for the joy and love everyone will heap upon me, so I can only imagine how unprepared they are gathering it up to present it. The truth is the children bring me enough joy in their chubby little cheeks full of floor food and dirty hands upon my walls, but I'm not going to turn down something tangible or the magical disappearance of them all (you too husband) leaving the house for 2 or 10 or 24 hours so I can sleep. I'm not picky.  You could pull up my Cartwheel and send me off alone or if this weekend doesn't work we can wait until the next Clear the Rack sale, I'll happily postpone to do that alone.
If none of those work or the kids need something tangible, here's a Mother's Day Gift Guide to help you.
 
Let the kids do the work and show how much they love Mom and Grandma with these adorable books this year. You buy the books and the little ones just fill it with love. Available on Amazon and Uncommon Goods.
If the kiddos aren't quite ready to fill in the blanks, give mom this book, and a few minutes each night to reflect on why she made those little miracles. These One Line A Day books are a fantastic way to capture the small moments of each day.
Babies should not get all the Kickee Pants joy! This night shirt is like butter and I promise Mama will sleep like a baby, if Daddy promises to get up when the children cry. It's seriously amazing.  Don't look at the price, just buy it and enjoy it. You can even get the entire family matching with Kickee Pants, including the dog.
It doesn't matter what you drink, if you have kids it never stays the proper temperature. Between changing diapers or running carpool or wiping noses or managing a life-changing crisis, there is seriously no way you'll ever get a hot cup of coffee or a cold glass of water (or tea or diet coke), but wait, there is … and it won't spill on your (clean, haha) floor.
This Contigo Autoseal Coffee Mug will keep your coffee at a near perfect temperature the entire time your kids are in school. Not joking. Yes, it says Autoseal, so that means sort of toddler proof too. So you can set the cup down and a two year old won't might not pour it everywhere in the 8 seconds it took you to go to the bathroom. This is not a want, it's a need, if you drink coffee or tea, or really any hot liquid. I've heard it works for water, but I have something better for water.
Behold the beauty that is the Contigo Autospout Water Bottle. This particular model is vacuum insulated and stainless steel; the color is lemon. She's gorgeous. Like her hot beverage friend above, she's keep's things the temperature they are supposed to be for quite some time. Ice water stays cold even during the heat of June soccer practice and those crazy long summer days at the splash pad. Plus you can push that straw spout down so wandering mouths don't happen upon it. Also it doesn't spill.  Did I mention how good it looks with custom vinyl on it?
S'well bottles can protect almost anything, keeping beverages cold for 24 hours and hot for 12 hours. They're versatile for the mama on the go. They can hold wine, water, coffee, tea, and whatever else she needs to carry around to stay sane. Bonus, they come in a ba-drillion fun colors so she'll never get bored. Ever.  Even better, they fit in the cup holders of basically any vehicles! Get one! 
Looking to great creative? Try this DIY project below.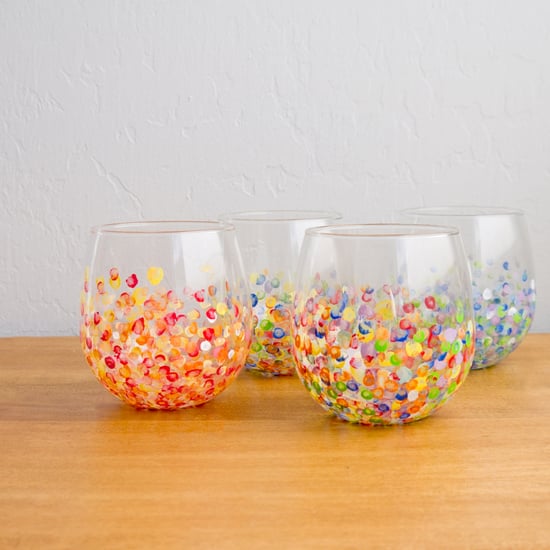 Want to be more creative! Use this simple vase idea from Pop Sugar and create your own with tumblers you can purchase at the local dollar store!  This is a fun craft for any age.
Toddlers take things.  I've found stuff hidden in firetrucks, in the ovens of play kitchens, under car seats … Toddlers take things, they just do. Make mom's life easier; let her track important things, like car keys and her cell phone, with this stylish Tile. You can track anything with these little guys. 
Jane.com has something for EVERY MOM. From clothing and graphic tees, to jewelry including hand-stamped rings and monogram necklaces, shoes, beach blankets, home décor, bags, and more! You can find so many unique items on Jane, there's just not time for me to list them! Plus items sell out! So head on over there and find something for them Mom in your life, you won't regret it.
I grabbed a mandala beach blanket, a hand-stamped wrap around ring, a Instagram photo frame, a seersucker monogrammed beach bag …

A night out with friends might be just what's she needs to recharge.
Menopause the Musical, at Harrah's is a great choice, affordable and a good time for anyone.  If she's already seen this musical, find a show she'll love here and present her with tickets on Mother's Day!
Don't let mom get stranded! FIXD can provide a check engine light diagnosis in clear language and help you clear the light. You'll get reminders about scheduled maintenance and oil changes. Plus, it's not just for mom, FIXD can monitor all of your family vehicles and be managed from one app. Smart! Get one. FIXD works with any gas-powered vehicle 1996 or newer and the app is compatible with iOS and Android.
Get some prints of some of these best shots she's taken on her phone! Really. You should. I love the prints and photo books coming from Artifact Uprising. There's an iPhone app and there are shipping deadlines. The instagram-friendly photo books are happiness!
If you love her, LET HER SLEEP. Seriously, it's the best gift ever. While you can make sure the kids keep it down or leave the house (hint, hint), the sun doesn't cooperate quite as well, so grab her this amazing sleep mask to keep her slumbering well past sunrise.
Looking for one a little more budget conscious, we get it. This one works just as well. No one complains when they're well rested.
If Mom likes perfume, this is definitely one to consider for her. Compare this sale to prices here and here.
The Clairsonic Mia 1 is a well-loved skin-cleaning device. I don't know many people who don't want one. This little lady just spent a few days at an all-time price low on Amazon. If you missed grabbing it at $99, keep checking, it's bound to come back before you have to wrap up things for mom, if not, she's worth the regular price!
Wrapped in a titanium shell, the Motiv can withstand almost anything a mom can! It's incredibly durable, lightweight, waterproof, and resistant to pretty much anything she'll come in contact with during her day.  It's easy to charge and has a battery that lasts 3 days. Monitoring your fitness just got a little more exciting! Grab a Motiv here.
This functional bag meets every need for a working mom on the go! It's durable, affordable, TSA compliant, keeps your data and money safe, and protects all of those devices! Plus it's comfy and has a sleek design.  At the time of posting this was on sale for $49.99, which is a steal. Help mom travel better, safe, and more comfortably with one of these!  No matter how far she's going, getting there is half the battle.
It's nice to have a glass of wine every now and again, but watching it go to waste when you can't finish a bottle is heart breaking. I know, I know, who even has that problem? This simple decanter can help portion the wine without worrying about waste! Grab one for mom here. Trust me, she'll appreciate it.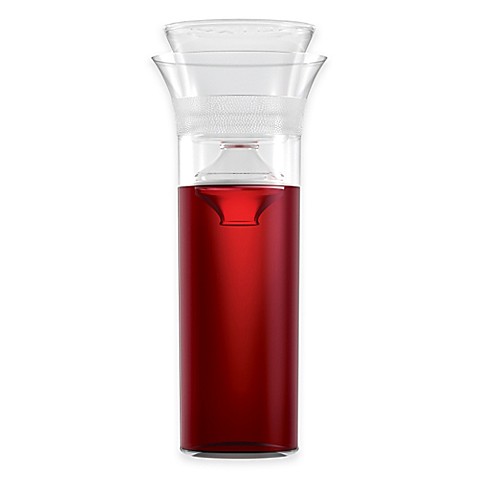 If Mom likes wine or even a nice cold cocktail, these durable tumblers are perfect for summer.
Mama's love their babies! The only thing they love more than their babies is pictures of them! There is nothing more classic and striking than a well-done silhouette. Follow this tutorial from Homemade Ginger and make your mama proud!
Variety is the spice of life, and Class Pass brings just that into your fitness routine. Help Mom try new things with a Class Pass. You're first week of workout is free and you'll get to experience classes from really great places including XCycle, Barre3, Shine Alternative Fitness, Core Studios, TruFusion, and more! Sign up here to get Mom started.
Quite literally the coziest bathrobe EVER, Mom will be more than delighted with this gift. Barefoot Dreams just wraps you in love and happiness, there's no other way to explain it. If Mom doesn't like robes, there's a Barefoot Dreams blanket with her name on it.
Mother's Day rolls right into summer and that's mean it's warming up, and quickly! If Mom enjoys her beverages caffeinated and cold, then she's going to love this! Simple to use, fits in the fridge, and makes enough coffee for up to two weeks! Sold, see ya drive thru! Grab one here and keep mom going all year long!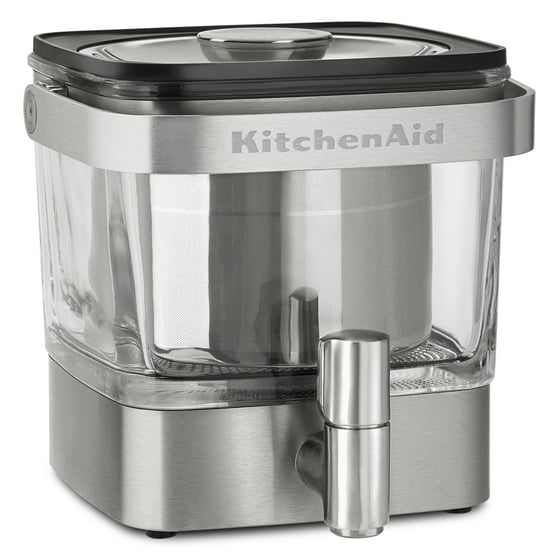 Let Mom breathe easy and book her a session or two of Halotherapy in the salt caves.  Present it as a gift with a salt lamp for her nightstand! Grab the lamp here! 
The Salt Room Las Vegas is offering special Mother's Day deals in addition to a store-wide sale. Plus first time customer get to sessions for the price of one. See special offers on their website and book a session for Mom today.
These shoes are perfect for everything. They go great with leggings, jeans, even a maxi dress! You can wear them with or without socks and they even wash well. They're comfortable and easy, something anyone wants in their life. These shoes come in a lot of colors, but pink has been the most popular seller this season.  Find a similar pair here. 
Looking to really wow Mom? Send her away. One of my favorite getaways is the Casablanca Resort just up the road in Mesquite. It's the perfect vacation without going too far or blowing your budget. The rooms are clean and well-appointed, the food is delicious, especially if you make reservations at Katherine's, and the pool is the best around. What's the best part of all is their spa! Make sure if you send Mom away, even for a day, you take advantage of spa packages and get her some pampering. Room and spa packages start at just $99.