This post contains affiliate links. Affiliate links allow this site to make a small commission on items purchased through links in this post at no additional cost to you. Please see our full privacy and disclosure policy here.
You can find everything in Las Vegas, including sharks! As Discovery Channel's iconic annual event enters its 31st year be prepared to enjoy 8 days of fintastic shark tales. Local businesses are getting deep with Shark Week events and special offerings too!
See where to find the fun and the fins in Las Vegas.
Fin Fact: As of 2010, Shark Week is the longest running cable television event ever.
Shark Week, television's longest-running, and most anticipated summer event returns with bigger sharks and bigger bites on Sunday, July 28 and continues through Sunday, August 4. With more than 20 hours of shark programming throughout the week, Shark Week 2019's fincredible lineup will deliver all-new groundbreaking shark stories revealing remarkable insights into the mysterious world of these magnificent creatures.

This year, the pop culture phenomenon takes viewers on the ultimate Shark Trip as actor, comedian and retired Marine Rob Riggle packs his bags and dives back into the water for a shark-filled adventure with some of his celebrity friends in "Shark Trip: Eat. Prey. Chum."

Take a ride around the world as nearly two dozen of the world's most respected marine biologists and science institutions take on the most daring shark experiments ever attempted in search of compelling insight into the mysterious world of sharks.
Cable and satellite subscribers can watch on Discovery Channel. Viewers can also stream Shark Week via the Discovery GO app on iOS devices, Roku and Amazon Fire, and log in with credentials from a cable or satellite provider.
All Shark Week episodes will be available to purchase in HD on iTunes, Amazon, Google Play, Fandango, Xbox and Vudu the day after they air. And fans can also pay once and see all the content with a season pass ($29.99). You can also download DirectTV Now and either opt for a free one-week trial of take advantage of three months of savings. 
Fin Fact: There are about 440 known species of sharks! Learn more here. 
Shark Week Las Vegas 
Cabo Wabo Cantina
Cabo Wabo Cantina, inside the Miracle Mile Shops at Planet Hollywood Resort & Casino, is reintroducing the Shark Tank cocktail for Shark Week from Sunday, July 28 through Sunday, August 4.
The Shark Tank, served in a shareable 50-ounce souvenir glass, is made with Absolut Lime vodka, blue curacao liqueur, sweet and sour, and topped off with ginger ale, priced at $48.  Bringing the shark-themed cocktail to life, candy gummy sharks may be found between several "shark bait" toy skeletons. The Shark Tank is paired with a cherry bomb shot, made with grenadine and vodka, which can be taken directly from a figurine shark's open jaw.
SeaQuest Interactive Aquarium
Join SeaQuest this Shark Week for special activities, meet & greets, amazing discounts, and MORE!

Daily Adventures:
🦈 2pm-6pm: Shark Tales! The Educational & Interactive Table
🦈 2pm: Educational Shark Show
🦈 5pm: Educational Shark Show
🦈 Bruce the Shark Meet & Greets
🦈 Discounts on Shark Themed Gift Shop Merch
Don't forget, you can use your Pogo Pass for one visit to SeaQuest Las Vegas. 
Photo: Freed's Bakery
Freed's Bakery 
Enjoy your sharks and eat cupcakes too! Head over to Freed's Bakery and grab these Shark Cupcakes.
Pre-Order online here.   Freed's signature vanilla cupcakes with cream cheese frosting, will be filled with gooey red blood (strawberry puree) and a fin on top. Priced online at $3.75 each. 
Freed's Bakery is at 9815 S. Eastern Ave., and Freed's Sweet Shop at 6475 N. Decatur Blvd.
Bonefish Grill From July 28 to Aug. 1, you can order a Jaws on the Rocks and Shark Bites at Happy Hour (cod, Wagyu beef sliders, shrimp toast and more).
Fiiz Drinks 
Join Fiiz Drinks for a shark-themed fun!
🦈Every Shark drink you purchase earns a ticket to win our Shark basket
🦈Shark coloring sheets for a "cool" activity out of the Vegas heat 
🦈Shark movies and shows playing in the lobby
Drink options include Sharknado, Sharks in the Water, and Shark Bite.
Order like a shark-obsessed 9-year-old and request a Shark in the Water, extra sharks swimming! 
Sharks in Las Vegas 
Visits to the Las Vegas Natural History Museum include a Marine Life exhibit with a 3,000 gallon tank that is home to sharks and stingrays. Shark feedings take place at 2:30 pm on Tuesday and Thursday, and 2pm on Saturday.  See the Las Vegas Natural History Museum complete calendar here and plan a visit today. 
SeaQuest Interactive Aquarium is fun every day, but the local attraction is offering special savings and shark-centric tours during Shark week. You can also book a sleep over with the sharks and swim with the stingrays.
Shark Reef, Mandalay Bay 
Las Vegas' original aquatic attraction turned 18 this year! With more than 15 species of sharks and 2,000 animals, the Shark Reef at Mandalay Bay gives us an up close and personal look under the sea! Visitors can take an animal encounter tour, dive with sharks, visit the 2500 gallon touch pool or just enjoy the immersion of life under the sea in the 1.3 million gallon Ship Wrecked exhibit. Wondering what's happening right now at the Shark Reef? Take a virtual tour.  Local discounts, birthday parties, and special packages available. 
Fin Fact: The Oceanic White Tip is a lonely hunter. Learn more. 
Shark Tank at the Golden Nugget
200,000 gallons of water. 3 stories. $30 million. Climb 30 feet and slide through sharks in a one-of-a-kind experience at the Golden Nugget Las Vegas. Guests are free. Locals are welcome and rates for day use begins at $25.
Want even more from The Tank at the Golden Nugget? Take a guided tour with one of the marine biologists at the Golden Nugget. You get to go behind the scenes, see a shark feeding and even take home a shark tooth! More information here.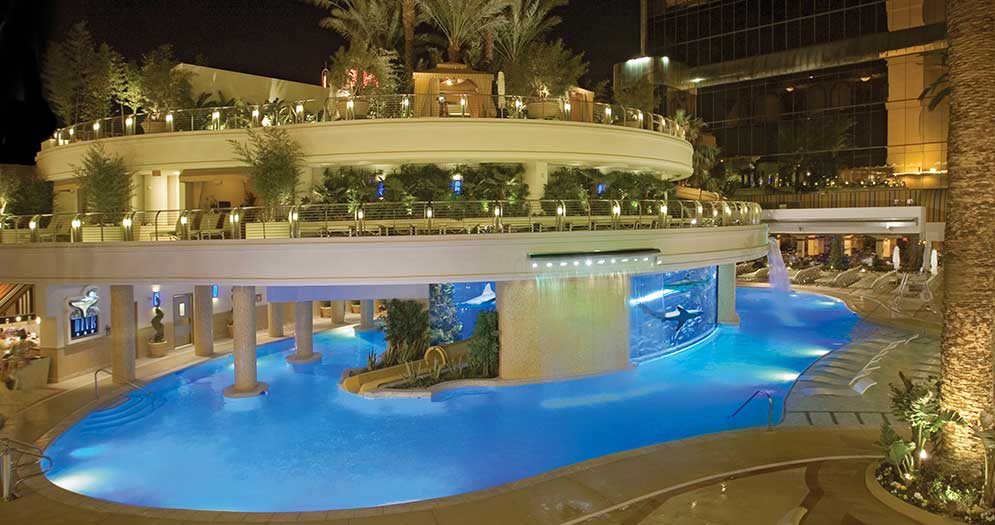 Aquarium at the Silverton Las Vegas 
The "Best Free Attraction in Las Vegas," is the aquarium at the Silverton Las Vegas. While there are no sharks in the aquarium, it's salt water and it's free!
The large attention-grabbing tank holds more than 117,000 gallons of water and is home to thousands of tropical fish. Don't miss live Mermaids swimming.
Don't miss the fresh water aquariums located on-site at the Bass Pro Shops. An 18,000 gallon water feature simulating Red Rock Canyon's beautiful rock formations is filled with spectacular live Koi and three more aquariums feature trout, channel catfish, carp and bass. Plus enjoy the flowing canyon river featuring ducks, turtles, bluegills and sturgeon.
Join the Silverton Las Vegas each Saturday and Sunday for Meals with a Mermaid!