The excitement on the face of my children when they open the door to see a boo bucket is priceless. It's a simple gesture, but one that brings so much joy to people. On our street, kids are rarity, so we enjoy booing are retired neighbors in addition to a friend or two.
It may seem a little extra and one more thing to add to your already packed calendar, but the extra happiness it brings is worth it.
Creating a Boo Bucket (or bag) can be as simple or ornate as you would like, it's about the excitement and mystery. Keep it simple by just dropping a box of cookies (Halloween Oreos and Lofthouse are always a favorite) or go all out and fill a bucket with fun and festive treats.
Great places to grab treats include the Target Dollar Spot (not a dollar anymore though), Dollar Tree and the 99c store. Grocery stores like Trader Joe's and Sprouts offer a fun selection of pumpkin goodies this time of year.
When we boo our neighbors (without children), I include savory seasonal snacks, coffee or tea, themed napkins, sweet treats, ornate pumpkins, baking or soup mixes and anything else I can find that would bring fun and cheer to their home.
For our younger friends we like to include seasonal candy or cookies, glow sticks, coloring pages, window clings, bubbles, baking mixes, apple cider or hot cocoa and arts & crafts. I normally grab an inexpensive Halloween bucket and package everything in there.
We've rounded up some of our favorite printable notes and signs to help you Boo your friends in style.
Here are links to coloring pages that Valerie mentioned in our Instagram stories!
We've Been Boo'd – Vampire Coloring Sheet
You've Been Boo'd – Bubble Letter Coloring
Download this printable set from Fun-Squared.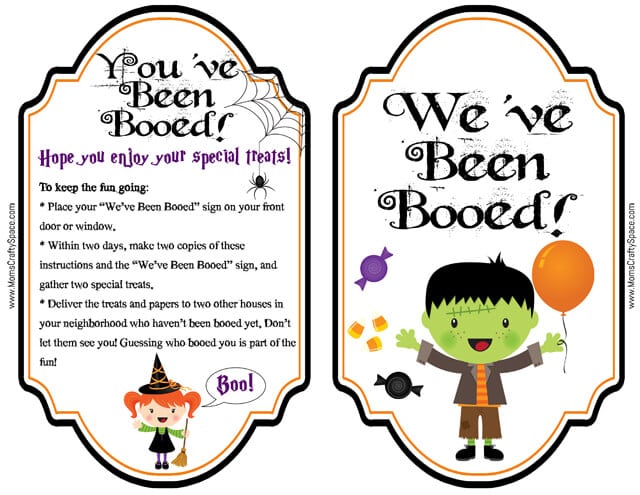 Happiness is Homemade created these adorable printables.
Grab this elegant printable from Anna and the Blue Paperie.
If you're booing friends with allergies, download these printables from FARE.
Let us know how your booing going this year! Post photos on Instagram and tag us @vegasfamilyguide and use the hashtag #vegasfamilyguide. We might just boo you!